Seven Ways in which Self Storage Differs from Warehouse Space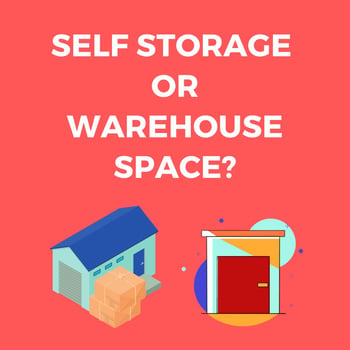 When you hear the word "warehouse", you think of industrial estates in far-flung places offering very large storage spaces for comercial goods. Self storage, on the other hand, invokes clean, well-lit storage facilities with convenient 24/7 keycard access to your own storage unit. Here are six ways in which self storage differs from warehouses:
Purpose: Warehouses are typically used for commercial goods storage and fulfilment, while self storage is geared towards personal or residential storage. That said, about 30 percent of Lock+Store's customers are business storers. This includes SMEs and ecommerce businesses.

Accessibility: Self-storage units are designed for easy access, with individual units that tenants can access directly and securely. Lock+Store gives our customers 24/7 secure keycard access. Warehouses, on the other hand, may have limited access and require more planning to retrieve items. Most warehouses do not allow direct access.

Size: Self-storage units are generally smaller and individualised, while warehouses are larger and often used for bulk storage, although mini-warehouses of about 194 sqft are increasingly being offered by self-storage operators, such as those at Lock+Store Chai Chee, Singapore and Lock+Store Glenmarie, Malaysia.

Flexibility: Self-storage units are rented on a short-term basis, often monthly, while warehouse leases are generally longer and may require a minimum commitment of at least a year. Most of our customers rent storage units for about three to six months because they need temporary storage space as their homes undergo renovation works or if they are in between houses.

Security: Self-storage units are secured with customers' own locks. Lock+Store provides 24/7 CCTV monitoring at all facilities, and onsite security guards at some facilities. Warehouses will also provide 24/7 CCTV monitoring but they tend to have onsite security guards at all facilities.

Cost: Self-storage units may be more costly per square foot than warehouses, but the convenience, accessibility and flexibility with no lengthy lockin period far outweighs the higher cost.

Ancillary services: Self-storage facilities tend to provide free use of trolleys and ladders, and onsite parking. Such services are typically not provided at warehouse facilities
Ultimately, the choice between a self storage unit and a warehouse will depend on your specific storage needs and budget.
Need more storage space? Get a quote here.