Lianhe Zaobao's Feature Story on Self Storage Singapore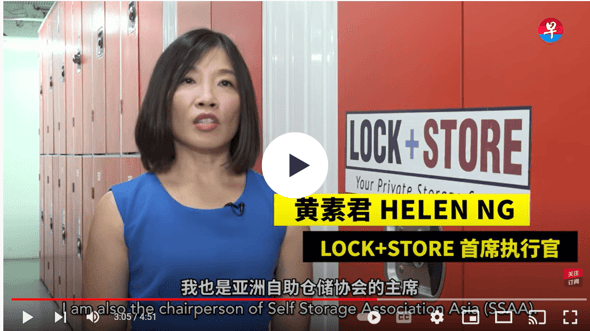 What's hot? Our CEO and Chair of Self Storage Association Asia Helen Ng of course!
Singapore's flagship Chinese daily Lianhe Zaobao's What's Hot segment recently aired a feature story on self storage Singapore. The Zaobao team interviewed our CEO on why more Singapore residents are using self storage. She was joined by two of our storers: Yumi Xiao, owner of swords shop KNX and Eileen Tay, Case Manager at Ray of Hope.

In the video interview, you can also find out more about our green vision as we launch several exciting eco-friendly projects such as the installation of solar panels and the introduction of an edible garden at our flagship Chai Chee facility.
Lock+Store Singapore together with Lock+Store Malaysia and The Store House Hong Kong received the ESG award given out by SSAA in 2021.
We will make a bold new green push in 2022 with the tagline "A green and caring tomorrow with self storage". Under this initiative, we will be installing solar panels, EV charging bays and recycling stations at our flagship Chai Chee facility. We will also be introducing edible gardens at the facility together with SG Gardens to optimise land use and support Singapore's drive towards food self-sufficiency.
We are committed to community building and uplifting the well-being of Singaporeans and all who live here through our CSR initiatives. We have been sponsoring a self storage unit for online crowdfunding charity Ray of Hope so they can have a base from which to distribute basic necessities to low-income families in Singapore. We recently sponsored a unit for Nature Society Singapore so they can store their business documents and publications documenting Singapore's rich and varied eco-heritage.