What's Next For Self Storage Asia?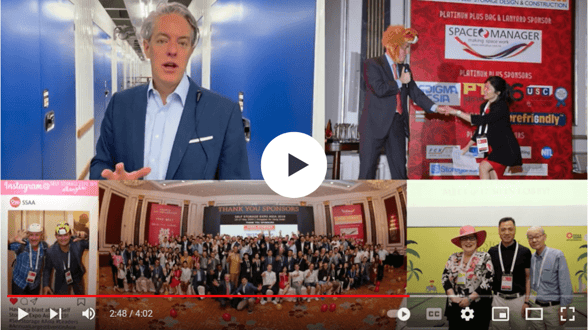 We caught up with Andrew Work, Executive Director of Self Storage Association Asia when he visited Singapore recently. We wanted to know what lies ahead for Self Storage Asia.
Read the Q&As here:
What have you been busy with in your capacity as Executive Director of SSAA?

Soon after I took up the role as the ED, COVID rocked all our worlds. The Association needed to adjust to delivering education and events online as travel ceased to be an option. Lately, we've been adjusting again to getting back in action in person. Our HQ is in Hong Kong, which has been slower than other places to open, but we're hoping that changes soon so we can catch up with reconnecting with the rest of the world! The return of our in-person Self Storage Expo Asia has been a huge focus for us. People are ready to meet up, catch up and do some deals!
What are you most excited about vis-à-vis Self Storage Asia and the Expo?

Just having everyone together is a big win. We've worked very hard to bring people together online. But there is a magic, a serendipity that happens when you bring people together. Secrets get shared, unknown connections are revealed, and people find ways to work together that they did not expect!



Could you share some key trends that are shaping self storage Asia in the post-pandemic period?



Industry leaders have always been keen to incorporate new technologies into their business to improve their efficiency and deliver more value to customers. During COVID, the rise of contactless storage has been big. People get more of their services delivered through an app - and they expect the same from self storage. Using the right combination of apps, access control and biometric locks, customers can select a storage unit, contract, pay for it and move in without having to deal with a live person. This can give operators more opportunity to focus on improving service and to have more personal contact with customers that have special needs. Small business owners in particular are getting more creative about how they use self storage and operators are often collaborating with them to help them grow.


How many delegates from how many countries are you expecting for the Expo?

We're expecting over 170 delegates from 20 countries. In addition to our core membership, which stretches from Japan to the Middle East, we are also expecting investors from the USA, Europe, the UK, South Africa and Australia. They will be joined by operators in those markets keen to learn about how Asian operators run their businesses. The China delegation will be smaller than in past years due to COVID restrictions, but it seems like there are more people coming from everywhere else that will make up the difference.


What are the highlights of the Expo?

So many! We kick off with our training workshops for managers and small operator-owners. Then we have site tours where I think a lot of operators are going to see robotic storage and biometric storage for the first time. We're also going to have our first valet storage tour. The conference will kick off with the first ever SAFE awards to Singaporean operators whose locations meet safe buildout standards.

Our Investor Forum will welcome real estate investors who are self storage experts and those new to investing in self storage to learn about the industry and meet real operators. On that day, we'll present the awards from the first ever industry awards in Asia. So everyone will know who are the best of the best in the industry!

We also release the results of our Annual Survey with our partners, Jones Lang Lasalle (aka JLL). This is hugely popular with members, who contribute their data so it can be anonymised and analysed to provide benchmarking and other intel for operators. And then there are the evenings...


What can delegates look forward to w/r to the social programme?

The Self Storage Expo Asia has a huge rep for its social programme that draws in people from around the world. The Welcome Cocktail, hosted on site at a high tech operator, is going to have that extra buzz this year from old friends reconnecting after a hiatus - and new players having their coming out to the Asian industry. We always try to bring local culture to our events and Singapore has it in spades. A trip to Singapore wouldn't be complete with a visit to the hawker stalls, where the buzz of the city and the huge range of spectacular cuisines are on offer. And we always finish with our "Experience Night" - a top secret, over the top adventure in the host city. I would tell you more but I would have to keep you in suspense!


"A green and caring tomorrow with self storage" - site tour at Lock+Store Chai Chee




Artist's impression of Lock+Store Chai Chee upon completion of edible gardens and solar panel installation
Join the team from Lock+Store Singapore at our flagship Chai Chee facility where we will unveil our vision of "A green and caring tomorrow with self storage". The immersive site tour will include the following eco-friendly highlights:
Rooftop solar panel installation

Electric Vehicle charging bays

Edible garden concept
Delegates will also view Lock+Store's wine, air-con and non air-con storage units, during which steel partitions by Janus and the access control system by PTI and Storlogix will be showcased.
At the end of the tour, delegates can recharge with a refreshing honey butterfly pea tea drink and enjoy savoury samosas bursting with the authentic flavours of Singapore. Lock+Store's edible gardens consultant will also give a demonstration on mixing your own fresh herbs infusion.