What Not To Store And Do In A Self-Storage Facility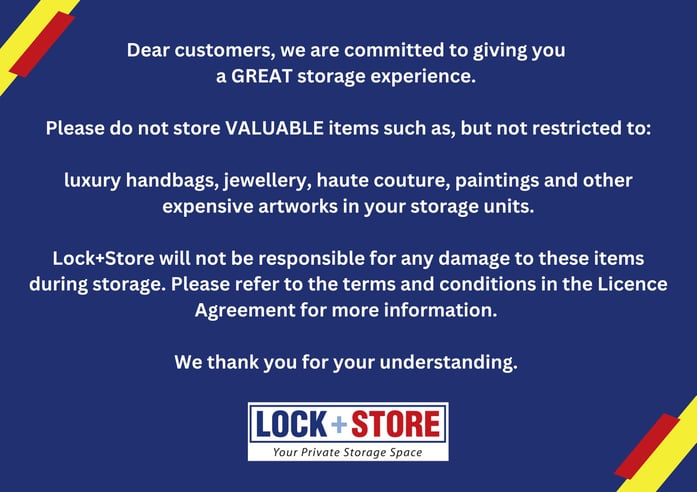 More and more people in Singapore are renting storage space at self-storage facilities to create extra space for their furniture, collectibles, books, etc. However, some items should not be stored at a self-storage facility. These include, but are not restricted to, jewellery, artworks and luxury handbags. This is also stated in the Terms and Conditions of our self-storage licence agreement.
Tenants should also assess the value of their stored items and are strongly recommended to purchase additional insurance coverage for their items should they deem the basic insured sum under the basic protection plan to be inadequate.
Prohibited activities
Apart from items that cannot be stored, some activities are also prohibited in self-storage facilities. These include cooking, staying overnight and keeping pets. The Self-Storage Association of Asia (SSAA) has published a poster of prohibited activities and items (such as lithium batteries, inflammables and other dangerous items). Info stickers are displayed on all of our storage units as a reminder to our customers.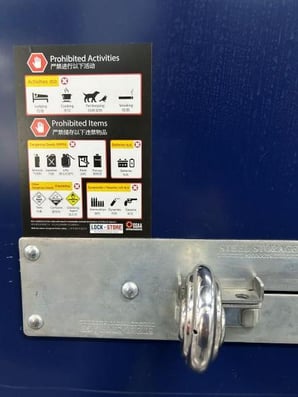 The posters and notices displayed at our facilities in Singapore serve as an important reminder to prospective and current storers about the dos and don'ts within a storage facility so as to ensure a safe and pleasant storage experience.
What about items that are neither valuable nor expressly prohibited? We recommend storing such items in air-conditioned units if they are likely to be affected by temperature changes and changing humidity conditions, otherwise they risk being affected by mould.
This article provides useful tips on preventing and removing mould from your shoes and bags.