Lock+Store Singapore Signs Power Purchase Agreement with Union Solar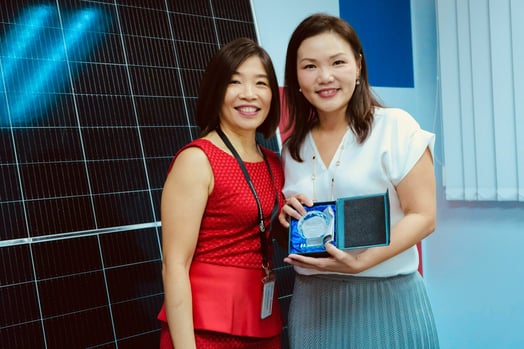 Helen Ng, CEO of General Storage Company with Ellen Teo, Executive Director of Solar Union at the signing ceremony on 12 Oct 22.
Lock+Store Singapore has signed a Power Purchase Agreement with Union Solar to turn our unutilised rooftop space into a solar energy farm that works to generate sustainable, renewable energy for our business needs.
We are delighted to be able to benefit from the free solar panel installation through the solar power purchase agreement and look forward to solar energy tariffs which are about 20% below our current retailer tariff.
Above all, harnessing solar energy dovetails with our mission of "A green and caring tomorrow with self storage".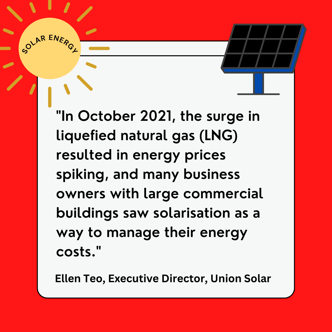 Q&As with Ellen Teo, Executive Director, Union Solar
1. Could you tell us more about Union Solar and your solar PV systems?
Union Solar installs, operates and finances solar PV systems on the rooftops at no upfront costs to our customers. Launched in September 2020, we are deeply passionate about changing the way businesses approach energy consumption and helping our customers embark on their renewable strategy.
Singapore is blessed with year-round sunlight, and our solar PV systems can harness that energy to help customers see immediate savings to their electricity bill, while reducing their carbon footprint.
2. Could you comment on the adoption of solar energy in the commercial sector? Is there a rising trend? If so, why are more companies turning to solar energy?
Demand has surged post-pandemic, and we expect continued growth in the long-term; to date, we received over 100 requests for installations, and completed 20 projects. In October 2021, the surge in liquefied natural gas (LNG) resulted in energy prices spiking, and many business owners with large commercial buildings saw solarisation as a way to manage their energy costs.
Furthermore, the global shift towards renewables has accelerated, many corporations are made aware to integrate sustainability into their operations. Installing a solar PV system is often a key component in embarking on a green transformation.
3. What are the benefits of switching to solar energy?
Switching to solar energy allows customers to tap into one of the most cost-efficient and clean energy sources in Southeast Asia. In Singapore, customers can enjoy solar energy tariffs, which are up to 60% lower than conventional retail tariffs. The prices of LNG will continue to remain elevated due to strong gas demand in Asia and Europe competing for cargoes and looking for supplies from the US and Middle East as a result of Russian supply restrictions and facility outages worldwide. Having solar as an alternative energy source will enable customers to be more resilient towards the fluctuation of energy prices.
As the trend continues to shift towards green, more and more companies need to have a renewable strategy; investors and consumers would want to see clear action being taken. Reducing carbon footprints via solar is a clear and significant step towards becoming a socially and environmentally responsible corporation.
4. Can a building be entirely powered by solar energy?
Realistically, no. An unobstructed wide area would be required for solar PV system to generate sufficient energy to power a building – a tall order for densely populated and land-scarce Singapore.
That said, Union Solar also took to invest in energy efficient technologies to harness and maximise energy generation. We secured rights to distribute a flexible, lightweight foil that can be wrapped around structures, obviating the need for supporting frames and structures. Because the foil does not require mounting structures in the installation process, it can provide customers with significant cost savings, helps shorten the deployment timeline and reduces the costs on the balance of systems.
5. Could you share more about the Union Power PPA scheme?
A Solar Power Purchase Agreement allows building owners to harness and consume solar energy without any upfront costs; Union Solar will install, operate and maintain the solar PV system, and customers can purchase the system's electric output at a lower cost compared to the current retail tariff.
This aligns both parties' interests. Business owners can enjoy savings and shift towards renewables, without having to invest large amounts of capital and know-how to install and maintain the solar PV system.
6. What are some challenges commercial companies here face w/r to switching to solar energy? How can they overcome these challenges?
Building owners need to assess how feasible their buildings are for solarisation; smaller rooftops mean fewer panels which might not produce as much energy. Installing and maintaining your own solar PV system can also be expensive and require significant capital upfront. Selection of the right equipment in the PV system and getting them delivered is also a challenge.
Many of these challenges require a significant amount of time, money and knowledge to overcome. Union Solar has the domain knowledge and a strong business network to provide customers with the optimal way to integrate solar energy into their operations.