Lock+Store Malaysia Celebrates Merdeka Day!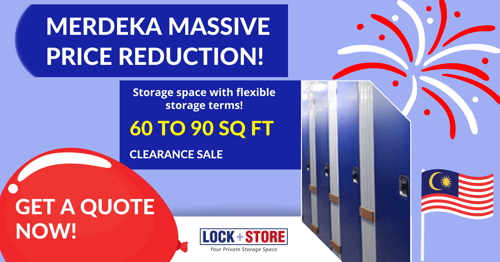 Merdeka Day, also known as Malaysia's Independence Day, is celebrated annually on August 31st August. Merdeka means "Freedom" in Malay. The Day signifies Malaysia's freedom from British colonial rule on 31 August 1957.
Merdeka Day is a day of joyous celebration in Malaysia marked by a parade at Dataran Merdeka (Independence Square), Kuala Lumpur, and colourful events throughout the country. A notable event is PESZTA, which will be held at Merdeka 118 in Kampung Attap, Kuala Lumpur, on Aug 27, 2022. According to news site The Malaysian Reserve, "the festival will feature an exciting line-up of programmes, from entertaining performances to a community market, exhibitions and food trucks, among others." Above all, Merdeka Day is a celebration of freedom, racial diversity and national unity.
The team at Lock+Store Malaysia would like to wish all Malaysians "Selamat Hari Merdeka, Malaysia! Happy Merdeka Day, Malaysia!". Our colleagues from Lock+Store Singapore and The Store House Hong Kong would also like to wish our Malaysian colleagues and friends "Happy Merdeka Day!".
In conjunction with Merdeka Day celebrations, we are pleased to offer massive reductions on all 60 to 90 sqft units. Get a quote here.
-
Hari Merdeka, juga dikenali sebagai Bulan Kemerdekaan Malaysia, disambut setiap tahun pada 31 Ogos. Merdeka bererti "Kebebasan" menandakan kemerdekaan Malaysia daripada penjajahan British pada 31 Ogos 1957.
Hari Merdeka disambut dengan meriah di Malaysia yang diwarnai dengan perarakan di Dataran Merdeka, Kuala Lumpur, dan acara berwarna-warni ini disambut di seluruh negara.
Acara besar yang bakal diadakan ialah PESZTA, bertempat di Merdeka 118 di Kampung Attap, Kuala Lumpur, pada 27 Ogos 2022. Menurut laman berita The Malaysian Reserve, "sambutan itu akan menampilkan barisan program yang menarik, daripada persembahan hiburan ke pasar komuniti, pameran dan trak makanan, serta pelbagai lagi."
Dengan kata lain, Hari Merdeka adalah sambutan meraikan kebebasan, kepelbagaian kaum dan perpaduan negara.
Malay translation provided by Saufi Ikhwan Bin Md Saad, Lock+Store Malaysia's Customer Service Manager.