Lock+Store Wins Silver in Expat Living's Readers' Choice Awards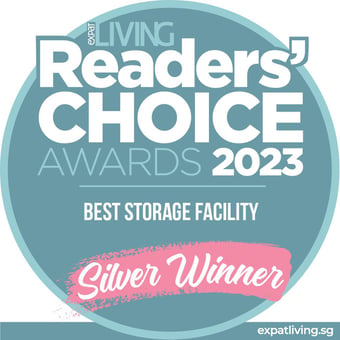 The results are in for the Expat Living Singapore Readers' Choice Awards 2023 – and we're delighted to announce that Lock+Store has been voted as the SILVER Winner for the Best Storage Facility, in the Services category.

Expat Living received recommendations from over 25,000 readers from 1 January to 15 February 2023, with their votes cast for their favourite businesses across 138 categories. It was an open system, allowing every business a fair chance to be voted – and they chose US as one of the best businesses in Singapore!

Thank you for YOUR support!!!
About Expat Living (EL)
Whether you're still considering a move to Singapore, or you're a long-term resident, expatliving.sg offers heaps of information on anything and everything happening on the island. EL's Calendar page has all the important events, so you'll never miss a play, concert or exhibition again – and, if they've missed something you're involved in, you can add it in yourself!
The site is updated with fun and valuable content every day to both entertain you and help you make a home in Singapore. Want to sell something online? Step over to their Noticeboard.