General Storage Company CEO Helen Ng's Leadership Award Win Reported in Latest Issue of Singapore Business Review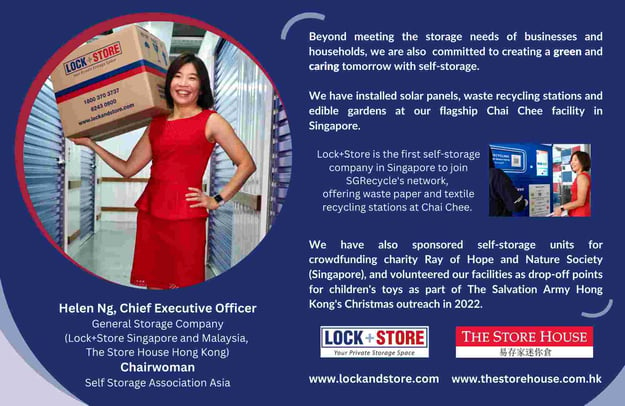 You can now recapture the thrills of CEO of General Storage Company Helen Ng's Management Excellence Award win in the April to June 2023 edition of Singapore Business Review.
In granting the award, the judging panel took three major achievements into consideration. First is that Helen helped standardise industry standards in Singapore and regionally. Second is that it created investment and growth opportunities for operators, and lastly, Helen rose to the peak of a traditionally male-dominated industry in Singapore.
Read the latest issue of SBR and experience the excitement of the awards presentation night here.
Listen as Helen Ng shares her vision for the company - establishing itself as a household brand name in the self-storage industry. The company continues to thrive even during the pandemic as it provided flexible solutions to the public. Internally, Ng conveys her wants of providing a more supportive environment for the employees.
Look out for the hardcopy magazines in a few weeks' time at airline lounges, hotels, office and residential buildings, F&B outlets and newsstands.