Cheapest Storage Space Singapore Near Me in 2023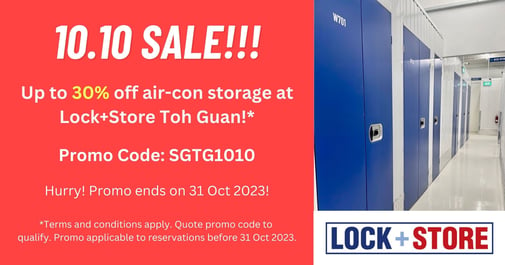 In the bustling city-state of Singapore, space is a precious commodity. With the increasing population and the escalating real estate prices, finding an affordable storage space is like finding a needle in a haystack. However, the demand for storage space is on the rise, thanks to the booming e-commerce and retail sectors, along with individuals needing extra space to declutter their homes.
This comprehensive guide aims to shed light on the cheapest self-storage options in Singapore, ensuring that you can find a solution that meets your needs without breaking the bank.
5 Reason Why You Should Consider Using Storage Space
Here are five reasons why you should consider using self storage in Singapore.
De-cluttering and Space Management:
With the escalating real estate prices, maximizing every square foot of space is crucial. Self-storage facilities allow you to de-clutter your home or office, creating a more organized and spacious environment. By relocating seldom-used items to a storage unit, you not only tidy up but also make room for what matters most.
Renting a larger living or working space to accommodate your belongings can burn a hole in your pocket. Self-storage units present a more economical solution. With a variety of unit sizes and rental terms, you can find a self-storage facility that fits your budget and only pay for the space you need.
Security and Peace of Mind:
Most self-storage facilities in Singapore are equipped with robust security measures including 24/7 surveillance cameras, individual alarms for each unit, and controlled access systems. This ensures that your valuables are well-protected, granting you peace of mind.
Ease of Access and Convenience:
The strategic locations of many self-storage facilities in Singapore ensure that you have easy access to your belongings whenever you need. With flexible operation hours, some facilities even offer 24-hour access. The convenience of being able to retrieve or store items at your leisure is invaluable.
For burgeoning enterprises, self-storage units provide the flexibility to manage inventory, documents, and supplies without the commitment of long-term leases. It's an excellent way to adapt to market dynamics, reduce overheads, and maintain a lean operation.
5 Things You Should Consider When You Choosing Storage Space
Below are five key factors to consider when choosing a self-storage facility in Singapore, with each point elaborated for clarity.
Cost and Affordability:
Comparison Shopping: Research and compare prices from different storage facilities to ensure you're getting the best deal. Websites and online tools can be helpful in this process.
Promotions and Discounts: Be on the lookout for any promotions, discounts, or special deals that storage facilities might offer, especially for long-term commitments or for new customers.
Hidden Fees: Make sure to inquire about any additional fees or charges that might not be immediately apparent, such as security deposits, administrative fees, or costs for additional access.
Location and Accessibility:
Proximity: Choose a facility that is conveniently located, either close to your home, workplace, or frequently visited areas to save time and transportation costs.
Access Hours: Ensure that the facility's access hours align with your schedule, and check if 24/7 access is available if needed.
Transportation: Consider the ease of transportation to and from the facility, including availability of parking and access to public transportation.
Security and Safety:
Surveillance: Look for facilities with comprehensive surveillance systems including CCTV cameras and security personnel.
Access Control: Ensure that the facility has secure access control measures in place, such as personalized entry codes or security card access.
Insurance: Check if the facility offers insurance options for your stored items, or if you need to arrange for it separately.
Size and Flexibility:
Unit Size Options: Make sure the facility offers a variety of unit sizes so you can select the one that best fits your needs, without paying for unnecessary space.
Flexibility in Upgrading/Downgrading: Inquire if it's possible to easily upgrade or downgrade your unit size if your storage needs change over time.
Lease Terms: Look for facilities that offer flexible lease terms, allowing you to rent on a month-to-month basis or for longer periods as needed.
Customer Service and Reputation:
Responsive Customer Service: Choose a facility known for having a responsive and helpful customer service team, ready to assist with any inquiries or issues.
Positive Reviews and Testimonials: Check online reviews and testimonials to gauge the experiences of previous customers and get an insight into the facility's reputation.
Recommendations: Ask friends, family, or colleagues for recommendations based on their personal experiences with self-storage facilities in Singapore.
By thoroughly evaluating these factors, you can make an informed decision and select a self-storage facility in Singapore that is both affordable and meets all your storage needs
3 Cheapest Storage Space Singapore in 2023
In Singapore, finding adequate space to stash away your possessions, whether personal or for business, can be a daunting task. However, fret not, as we unveil the top 3 budget-friendly self-storage facilities that not only promise safety for your belongings but also throw in unique perks
Lock+Store
As one of the prominent self-storage space providers in Singapore, Lock+Store has spread its wings across 13 strategic locations, ensuring there's always a secure spot for your belongings, be it in Ang Mo Kio, Ayer Rajah, Balestier, Bukit Merah Central, Chai Chee, Geylang, Jurong, Macpherson, Pasir Panjang, Tampines, Tanjong Pagar, Telok Blangah, or in Woodlands
Unique Selling Proposition (USP):
Flexible Storage Options: Whether you're in a transient phase or looking for a long-term storage companion, Lock+Store is your go-to place. With a flexible tenure ranging from as fleeting as two weeks to as enduring as you desire, it tailors the space to your needs .
Accessibility: The doors of Lock+Store are open to you 24/7, ensuring you have access to your belongings whenever the need arises .
Varied Size Options: From modest to spacious, Lock+Store offers a spectrum of high-tech storage units to cater to individual needs, ensuring you only pay for the space you need .
Pricing:
Lock+Store currently has a promotion where you can snag a 16 sqft locker for $48 per month or a 24 sqft locker for $68 per month at their Tanjong Pagar facility, by quoting the promo code LSTP4868. This promotion applies to non-air-conditioned units, hinting at the budget-friendly opportunities awaiting patrons. For more information you can inquire in the website
Additional Value:
Widespread Locations: With 13 facilities dotted across Singapore, you're never too far from a Lock+Store unit, making it a convenient choice for the space-strapped urban dwellers and businesses .
24/7 Security: Rest easy knowing your possessions are under vigilant watch round the clock.
Self-Service Convenience: Lock+Store champions the cause of self-service, allowing you the freedom to move your items around the facility at your convenience, echoing a seamless user experience .
Things You Can Store
Here's a detailed breakdown of the type of items you can store at Lock+Store facilities:
You can store different types of your wine at Lock+Store Chai Chee
You can store your furniture such as bed, dining table, chair, and many more
From small items like toys and books to larger, bulkier furniture pieces, Lock+Store has got you covered .
For businesses, Lock+Store offers storerooms ranging from 16 square feet to a whopping 22,000 square feet. This broad spectrum caters to a variety of business needs, making it a versatile choice for commercial storage solutions.
Extra Space Asia:
Unique Selling Proposition (USP): Extra Space Asia stands as a dominant player in the region, boasting professionally managed services, robust security measures, and 24/7 accessibility across its facilities​​.
Location: With a strong presence, Extra Space Asia has 78 facilities spread across Singapore, Malaysia, Hong Kong, Korea, Taiwan, and Japan​​.
Additional Benefit: Their wide array of storage solutions coupled with flexible plans cater to both individual and business needs, extending more living and working space to their clientele​.
Price Range: The monthly storage rental can be varying​. For the simple box storage you only need to pay 5 sgd per month
StorHub Self Storage:
Location: StorHub Bukit Batok, StorHub Hougang, StorHub Jurong West, StorHub Marsiling, StorHub West Coast, StorHub Serangoon, StorHub Changi, StorHub Kallang Avenue, StorHub Toa Payoh, and StorHub Tampines​
USP: StorHub, the pioneer of self-storage services in Singapore, offers a safe and secure environment with 24-hour access, ensuring your belongings are well-protected​
Price: Varies based on unit size, advised to inquire for pricing.
Additional Value: Wide range of unit sizes, free car parking at selected facilities, historical significance in introducing self-storage concept to Singapore
New Possibilities: Lock+Store Meets Clicks® Global Network!
We are overjoyed to unveil an exciting collaboration between Lock+Store, the pioneer in self-storage solutions, and Clicks® Real Estate, your trusted online portal for comprehensive real estate services. This alliance doesn't just broaden the horizons for property and storage solutions but also introduces you to a global network of property aficionados via Clicks®.
But there's more! To commemorate this promising partnership, Clicks® is rolling out an exclusive offer: Complimentary Free Property Listing in Singapore! This is your golden opportunity to showcase your property on the esteemed Clicks® platform at absolutely no cost.
And, the offerings don't end here. Clicks® is also proud to present a suite of free tools called clickstimate to estimate your property's value, empowering you with the insights needed to make informed decisions.
Step into a world where exemplary storage solutions meet unparalleled real estate opportunities. Explore the synergies of Lock+Store and Clicks® today, and take your property ventures to a whole new level!