Lock+Store Tampines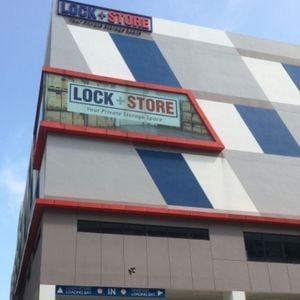 Lock+Store Tampines self storage is located in the east of Singapore. It is one of the largest towns in Singapore and is known for its HDB (Housing and Development Board) flats, shopping malls, and recreational facilities.
Storage unit types:
Lockers and storage units. Air-conditioned only.
Storage unit sizes
13 to 129 sqft.
Parking
Free.
Free to use
✅ Trolleys
✅ Ladders
Amenities nearby
Tampines has a well-developed transportation network, with several MRT (Mass Rapid Transit) stations, bus interchanges, and major roads connecting it to other parts of Singapore. It is also home to several educational institutions, including primary and secondary schools, as well as the Tampines Campus of Temasek Polytechnic.
There are several shopping malls in Tampines, including Tampines Mall, Century Square, and Tampines 1, which offer a wide range of retail, dining, and entertainment options. Tampines is also known for its recreational facilities, including Bedok Reservoir Park and Tampines Eco Green, which provide opportunities for outdoor activities such as jogging, cycling, and fishing.
Overall, Tampines is a vibrant and bustling town with a diverse range of amenities and facilities that cater to the needs of its residents.
Lock+Store Tampines
Address: 29 Tampines Street 92, Singapore 528879
Tel: 6421 8396